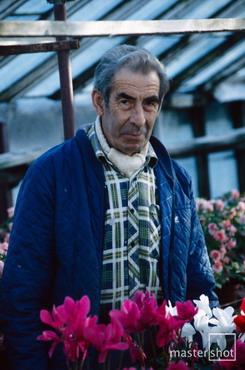 Gardener and master photographer
Harry Opstrup 1922 - 2005 resided in Holte, were market gardener and considered as one of most significant Danish nature photographers.
He won several photo contests and has appeared in newspapers and photo magazines and is represented at The National Museum of Photography with approx. 2000 works.

Harry Opstrup bought his first camera in the mid-1960s, a Hasselblad for medium format film, after he on a trip to Sweden had seen an eagle pecking on a road killed rabbit.

Harry Opstrup had his favorite nature motifs, which he photographed again and again in a search for the right light and expression.
Harry Opstrups art is both puzzling and alluring. It demonstrates great photo-technical skills and artistic sense. His works are graphic and clean in their expression – he was a humble man that did not seek too much attention. Unfortunately for the same reason his outstanding art and efforts for photography is only known by few.

Hasselblad AB spotted his special talent and used several of his photos in their advertising and magazines in the 1970s. Harry Opstrups photographs have been exhibited at the Danish Museum of Hunting and Forestry, The Danish Museum of Photography and The National Museum of Photography.
Interested in organizing an Harry Opstrup exhibition
Please take a look at our

available

exhibitions here